Ultrasonic cleaning will get rid of any kind of contaminants from a wide variety of materials. Getting the right combination of ultrasonic power and frequency, heat, time, and cleaning liquid will give you the optimum cleaning capacity from using an ultrasonic cleaner.   
Cleaning liquids improve the cavitation effect. As a result, your item gets a better cleaning than when you just use plain water. Just like ultrasonic cleaners, not every cleaning liquid is the same; different types of cleaning liquids target different kinds of contamination. It's important to understand the contamination of the item you need to clean, so you can pick the right cleaning liquid to get the best cleaning solution. 
You can use the table below as a reference when picking the right cleaning liquid for you. For Sonixtek industrial ultrasonic cleaner, we recommend Tickopur, one of the best brands of cleaning liquid. Its solution is water-based and biodegradable, making this effective cleaning solution environmentally-friendly.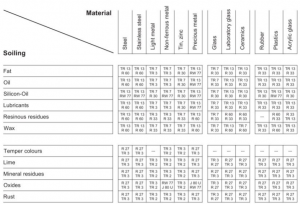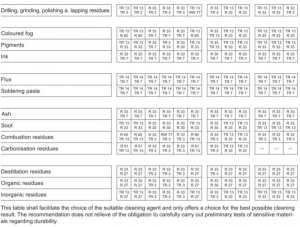 You can check the full table with all the Tickopur products here. 
v v v v v v vv v v vv v vv v v vv v   v vv v v v v vv v v vv v  vv v v vv v   v v v  v v v v v v vv v  v v v v vv v v v v vv v v v v v vv v  vv v v v vv v v v v v v vv v v v v v v v v vv v v v v v v v v v v v v v v vv  v v vv  v v vv v v v v v v v v v vv  v v vv   v  vv v v v v v